Highlights of PFI Collaboration with Members and Partners as Anti-Covid-19 Fighters
The outbreak of COVID-19 in Indonesia in 2020 significantly impacted all sectors of society, including philanthropic institutions. These institutions have encountered further challenges due to limitations in aid mobilization caused by the implementation of social restrictions.
The Indonesian Philanthropy Association (PFI) facilitates COVID-19 response coordination meetings among its 36 member organizations. During these meetings, it was decided that an information, communication, and coordination center would be established between philanthropic institutions to aid in the implementation of emergency response activities for COVID-19. The platform, covid19-filantropi.or.id, showcases data, initiatives, guidelines, and news from various philanthropic activists. Currently, the website features more than 470 initiative programs, 314 fundraising activities, and 102 distribution channels of assistance from 416 philanthropic institutions/communities that have contributed to tackling the COVID-19 pandemic. These initiatives have raised 905 billion Rupiah to help those affected by the pandemic.
See also: Highlights of the Anti-Covid-19 Warrior Katadata Event.
The purpose of PFI is to serve as the primary platform for co-creation and multi-stakeholder collaboration. It aims to enhance capacity, accountability, and impact to reinforce the philanthropic ecosystem in Indonesia. In October 2021, PFI joined the Civil Society Coalition for Access to Vaccination for Indigenous Peoples and Vulnerable Groups, which consists of several Civil Society Organizations (CSOs), namely the Indigenous Peoples Alliance of the Archipelago (AMAN), Harapan Nusantara Organization (OHANA), Indonesian Association of Women with Disabilities ( HWDI), Indonesian Philanthropy, National Family Planning Association (PKBI), Consortium for Agrarian Reform (KPA), Indonesian Forum for the Environment (WALHI), and Empowerment of Female Heads of Family (PEKKA).
Our Coalition, the Civil Society Coalition for Access to Vaccination for Indigenous Peoples and Vulnerable Groups, is committed to helping the government in its efforts to curb the spread of COVID-19. We believe in reaching out to the entire community to encourage and facilitate vaccination for various vulnerable groups, including indigenous peoples, persons with disabilities, social forestry groups, farmers, fishermen, female heads of households, and citizens without NIK.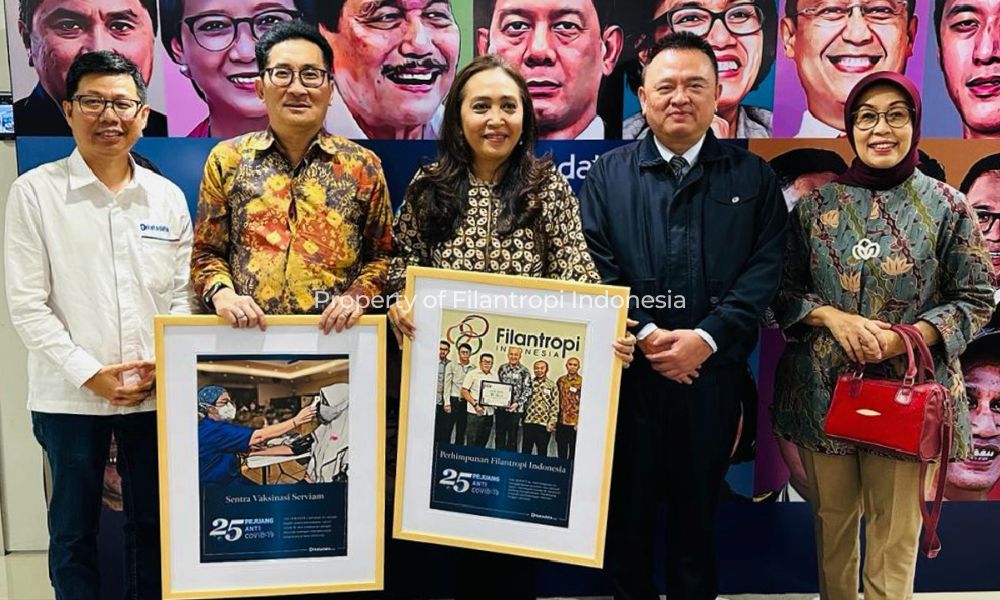 PFI has worked with 41 implementing and 467 collaborating partners to coordinate 294 COVID-19 vaccine acceleration program work areas. Together, they have vaccinated 84,559 people with up to three doses, educated 20,598 beneficiaries on PHBS and the importance of vaccination, and distributed 7,079 hygiene kits and over 12,000 copies of Communication, Education media, and Information. These efforts aim to assist indigenous peoples and other vulnerable groups in implementing health protocols and PHBS. All of this has been achieved through joint work and collaboration.
As the demand for data and information amplification rises, the Coalition has taken the initiative to launch koalisiaksesvaksinasi.com. This website provides members of the Coalition and outsiders with the ability to view vaccination outcomes for vulnerable groups. It is a digital data information system designed to expedite vaccination programs for these groups. For further details, the Coalition's Year End Notes report is available at the following link.
Also read PPKM Award for Vaccination Support for Indigenous Peoples and Vulnerable Groups.
The efforts of PFI, its members, and its partners have paid off with successful outcomes. Firstly, the Indonesian government has awarded the Civil Society Coalition for Access to Vaccination for Indigenous Peoples and Vulnerable Groups with the PPKM Award for their COVID-19 Vaccination Centers, which fulfill the health rights of these groups. Secondly, "The Booster," a campaign documenting the COVID-19 vaccination and emergency response, was recognized at the Katadata AntiCovid-19 Warrior event by the digital media outlet Katadata. This recognition serves as a testament to the campaign's effectiveness.
The two awards are inseparable from the hard work and support of PFI members and partners from the CSO network, government and non-government, both at the central and regional levels. PFI will always continue to encourage and is committed to facilitating various capacity-building activities for network members and partners and optimizing existing collaborations by improving coordination and governance between stakeholders.