PPKM Award for Vaccination Support for Indigenous Peoples and Vulnerable Groups
The Government of Indonesia awarded the PPKM Award to the Civil Society Coalition for Access to Vaccination for Indigenous Peoples and Vulnerable Groups. The Coalition was awarded this award for the category of COVID-19 Vaccination Centers whose nominations were proposed by the regions. The PPKM Award is an appreciation from the Government of Indonesia to all components of the nation at the central and regional levels who have contributed and worked hard to deal with the COVID pandemic. The PPKM Award was presented by the President of the Republic of Indonesia, Ir. Joko Widodo to several representatives who received the award at the Dhanapala Building, Jakarta, Monday (20/3) morning.
President Joko Widodo, at the awarding ceremony, explained three years ago, when COVID-19 arrived, we all worked hard to save the community, evacuate Indonesian citizens abroad, prepare quarantine, health facilities, and provide social assistance.
At that time, no one knew which was the right decision, did not know what would happen, and it was unpredictable. As a result, according to the WHO assessment in June 2022, Indonesia has handled COVID-19 well, and vaccination coverage is among the best. "You are part of the hard work that we have done," said President Joko Widodo. As a result, transmission and death rates can be reduced, and the economy continues to grow. This result is the fruit of the hard work of all elements of the nation.
The President hopes that we must all remain synergistic, work across agencies, ministries, across sectors, and synergize between the government and society. Don't just stop at the COVID-19 business. "We must maintain this cooperation post-pandemic; we can continue to deal with other problems," he said.
Hamid Abidin, Coordinator of the Civil Society Coalition for Access to Vaccination for Indigenous Peoples and Vulnerable Groups, expressed his gratitude for recognizing the Coalition's work. This award is a form of appreciation from the government for cooperation in helping fulfill the health rights of indigenous peoples and vulnerable groups.
"Even though the status of PPKM has been revoked, we are still working on holding vaccinations for indigenous peoples, vulnerable groups, and people with disabilities in areas that still need vaccinations. Especially remote areas," said Hamid. The area includes Papua, West Papua, Maluku, Lampung, and Yogyakarta.
Rukka Sombolinggi, Secretary General of the Indigenous Peoples Alliance of the Archipelago (AMAN), a member of the Coalition, stated that Indonesia needs equal access to vaccines and other health services. So far, due to difficult location access, indigenous peoples have rarely been touched by health services. Health is one of the keys to strengthening indigenous peoples. If indigenous peoples are strong and their rights are fulfilled, they can face environmental threats and climate crises. "We have to strengthen indigenous peoples because they are the last bastion of our forest guards," said Rukka.
According to Rukka, one way to strengthen indigenous peoples is to pass the Indigenous Peoples Bill into law. So far, the Coalition with AMAN and partners who work with indigenous groups have helped access vaccination by recording vaccine needs and holding vaccinations by pick and drop. Ball pick-up is also carried out for persons with disabilities.
According to Maulani A Rotinsulu, the Indonesian Association of Women with Disabilities (HWDI), a member of the Coalition, emphasizes the importance of inclusive health services for all, including persons with disabilities. Inclusivity is not only in matters of treatment but also in terms of outreach, information, and education.
Socialization, information, education, and vaccination activities have not reached PwDs with disabilities due to the lack of data on PwDs in health service centers. We also need to understand who people with disabilities are and how to reach them. We also need to understand the forms of facilities that can be accessed and what kind of appropriate accommodations must be prepared by health care workers and vaccinations. "In the future, it is necessary to formulate standards for socializing and providing inclusive health services for persons with disabilities. Because they are a group still lagging in accessing health rights," said Maulani.
Also read: Prioritize Johnson & Johnson Vaccines for Indigenous Peoples and Vulnerable Groups.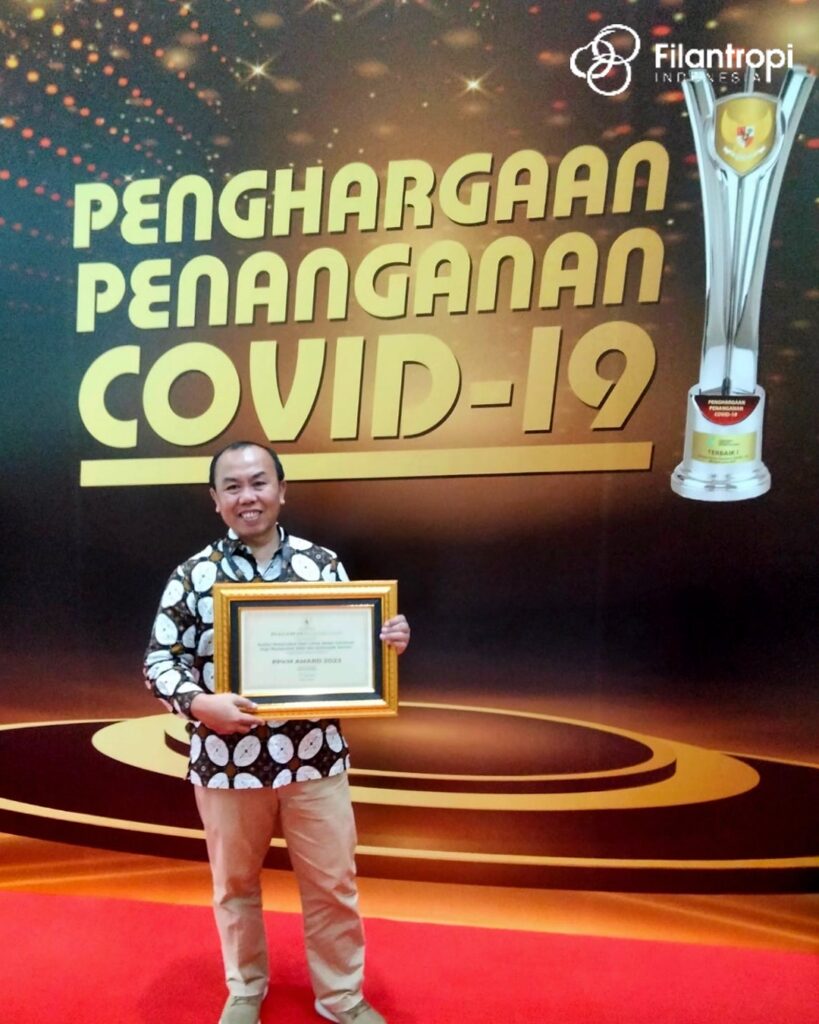 Throughout the pandemic, the Coalition has assisted the government in distributing and conducting vaccinations for vulnerable groups, indigenous peoples, and persons with disabilities. In 2022, the Coalition will help vaccinate more than 56 thousand doses. In 2021, they were even reaching 241 thousand of vaccines distributed. This year the Coalition continues to work to help with vaccinations, from primary doses of vaccines to booster doses.
The Coalition's work also participates in socialization, education, and collaboration with multi-stakeholders to help vaccinate in various remote areas. Socialization and education are carried out through representatives of the three community groups mentioned above in reaching the target group to be vaccinated. The Coalition provides vaccines in cooperation with the Ministry of Health, the local Health Service, and other parties who can supply and accelerate the provision of vaccines. The Coalition's work report can be seen in the Year End Notes at this link.
The Coalition hopes the COVID-19 pandemic will become an essential lesson for all. Obstacles and problems encountered during the pandemic and the vaccination process must be learned from. Good practices that are implemented need to be documented so that there is a preventive design for similar incidents and to prepare community resilience. One important thing, if a similar incident occurs, indigenous peoples, persons with disabilities, and vulnerable groups are not left behind, and their rights are fulfilled.
---
****
The Civil Society Coalition for Access to Vaccination for Indigenous Peoples and Vulnerable Groups is a coalition of civil society organizations (CSOs) that provides attention and support for access to COVID-19 vaccination for indigenous peoples and vulnerable groups, especially persons with disabilities and children. This coalition comprises various non-governmental organizations, religious organizations, philanthropic organizations, and communities. Some members of the Coalition include the Alliance of Indigenous Peoples of the Archipelago (AMAN), Harapan Nusantara Organization (OHANA), Indonesian Women with Disabilities Association (HWDI), The Association of Indonesian Philanthropy, National Family Planning Association (PKBI), Consortium for Agrarian Reform (KPA), Forum for the Environment Indonesia (WALHI), and Empowerment of Female Heads of Family (PEKKA).