Ethics and Accountability of Aid to COVID-19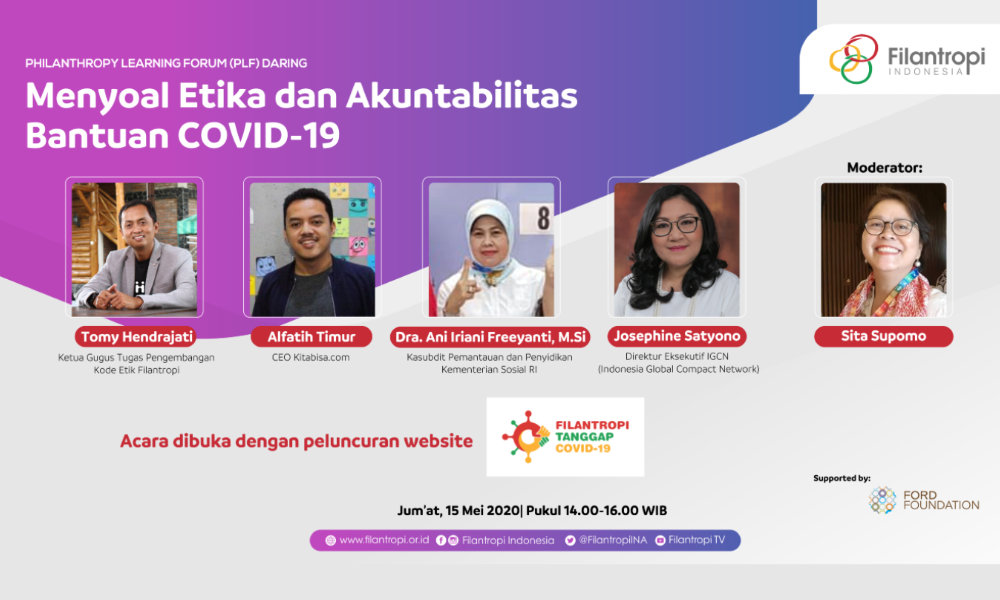 Amid the COVID-19 pandemic disasters, philanthropy in Indonesia contributes to significant contributions through public donation raising (money, goods, or services) and the distribution of donations. This donation is often done online through various platforms such as social media, institutional sites, and crowdfunding, which are then transmitted offline or directly to the beneficiaries. The high intensity of this aid-raising and channeling activity has left several issues related to ethical and accountability assistance.
Many philanthropic actors help with the handling of the COVID-19 pandemic who have not noticed ethics when providing the help they have raised. For example, the distribution of donations amid a crowd that violates the rules of social distances and threatens the safety of beneficiaries, or the ethics of photo-taking that often does not heed the beneficiaries ' feelings. Besides, inquiries related to the accountability of accumulated donations. Many people find the accountability of reports by delivering a photo or video dispensing aid. While the complete written reports related to the utilization of donations are difficult to find and accessed publicly. Which is the question, how is the ideal format or minimum standards of accountability assistance? Does sending photos and videos have been considered sufficient as a form of Help manager accountability?
That is the background of Indonesian philanthropy to hold an Online Philanthropy Learning Forum (PLF) with the topic of "Ethics and Accountability of Aid to COVID-19" involving various philanthropy actors from the foundation, the company to the community, the Government, as well as the recipient of the aid itself. It is hoped that this forum can facilitate philanthropic practitioners to share knowledge and experiences related to ethical and accountability assistance, as well as learning from good practice by philanthropy/nonprofit agencies.
This Online PLF can be followed on:
Day/Date: Friday, 15 May 2020
2.00-4.00 PM
LIVE via Zoom App
You can download the press release here.
Watch the recorded webinar in our Online PLF: