Doing Good Index 2020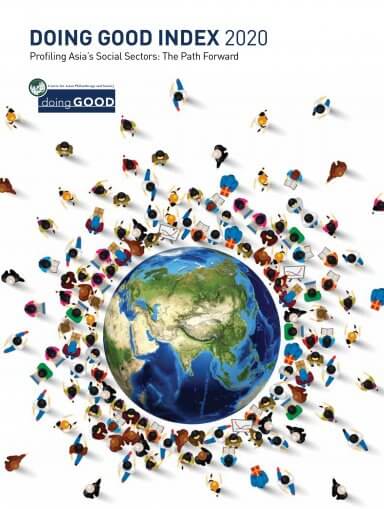 Profiling Asia's Social Sectors: The Path Forward
The Doing Good Index 2020 lays bare the vital role of the social sector and how the right policies and practices can unleash an enormous US$587 billion per year towards it.
In the wake of Covid-19, the public, private, and social sectors must come together to work towards a stronger and more equitable Asia as we build our way out of this crisis. At a time when foreign funding is declining across the region, "Asia for Asia" philanthropy must fill the gap—and the Doing Good Index shows how. It provides a roadmap of the policies and practices that can unleash this capital by aligning incentives around doing good; mitigating the trust deficit; and maximizing private social investment flowing to the social sector.
The Index has increased its coverage from 15 Asian economies in 2018 index to a total of 18: Bangladesh, Cambodia, China, Hong Kong, India, Indonesia, Japan, Korea, Malaysia, Myanmar, Nepal, Pakistan, Philippines, Singapore, Sri Lanka, Taiwan, Thailand and Vietnam. It is based on original data gathered through surveying 2,189 social delivery organizations and interviewing 145 country experts across all 18 economies.
The Doing Good Index 2020 offers a way forward for governments, as well as private and corporate donors to meet the imperatives of building a vibrant social sector for a brighter Asian future. It is with great excitement that we bring you this second edition to help plot the way forward in a post-Covid-19 world. The next edition of the Index, planned for 2022, will reveal how these economies have fared following the Covid-19 pandemic.
Version
Download

55

File Size

0.00 KB

File Count

1

Create Date

November 6, 2020

Last Updated

November 11, 2020