Classical Christmas Charity Concert: HOPE Concert
December 17, 2020
@
7:30 pm
–
9:30 pm
Welcoming and celebrating Christmas 2020 and New Year 2021, which may be a little different in this time of the pandemic, Wahana Visi collaborates with several classical singers and musicians to present a HOPE CONCERT charity concert which will be held on: 17 December 2020 at 7.30 pm WIB through the Wahana Visi Indonesia YouTube channel.
After months of going through difficult times as a nation, we want to raise the SPIRIT and HOPE of our people who have been directly affected by this pandemic. In particular, children in Papua who still have to learn from home with all the limited facilities and who don't even have books to support their study.
Hopefully through this HOPE Concert, we can share kindness to the children in Sentani, Papua to support the procurement of books along with bookshelves, tables and chairs in several reading houses so that they can still study independently, and also entertain our viewers with musical performances on December 17, 2020!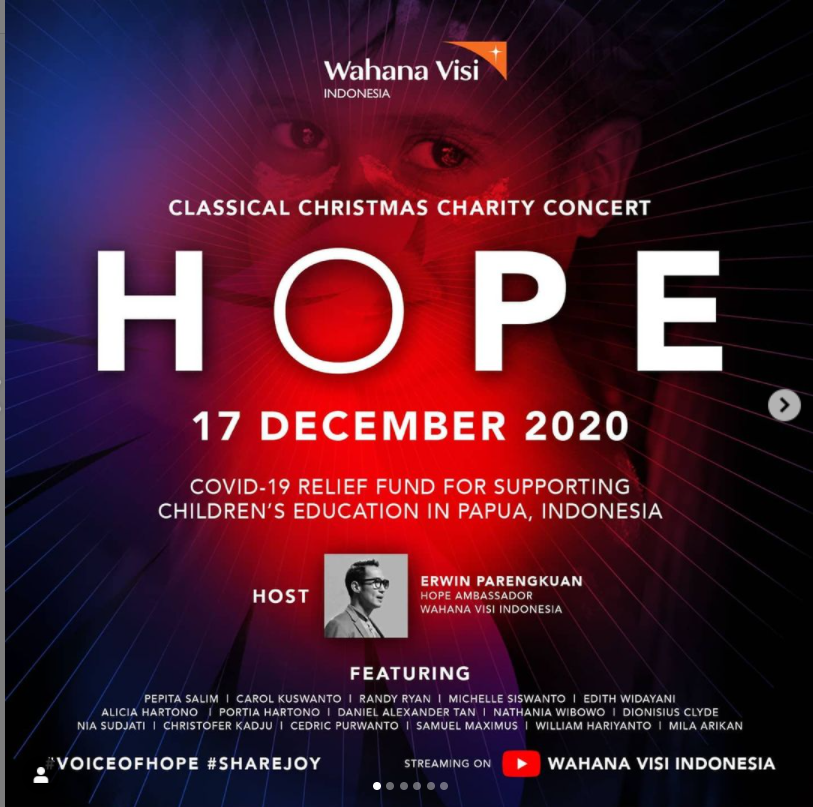 Wahana Visi Indonesia
02129770123
comms_indonesia@wvi.or.id